Does Your Website Generate Little To No Business?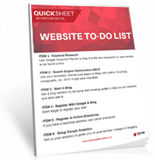 So you have a website but it's never brought leads & income into your business...it's not enough to just put up a website, you have to bring people to it. Your website should then be converting prospects into leads or paying clients!
How This Supports your Business...
Almost every business has a website, so why not make sure it's working as a part of your sales funnel. We will demystify online directories, SEO, blogging, analytics, and more!
What You Get:
In this course, we will discuss the best practices in making your website work for you with easy to follow video lessons
You will work through a number of hands-on exercises which will help you apply the knowledge
And you will get a downloadable checklist for your website marketing work
Lastly, you will have course support through our #slack message system
Easy To Use Course Platform!
*Course time includes appx. 2.5 hours of lessons and 5-10 hours of hands-on exercises