Make Leads Come To You...
Special Bundle Pricing Only For 24 Hours!
67% of marketers use blogs to generate leads for businesses & 70% of consumers learn about a company through blog articles rather than ads. Blog marketing has a high best Return On Investment. Blogs showcase your knowledge & customer service, increase your SEO ranking, and much more.
How This Supports Your Business...
This course will give you the tools to create blogs that perform! From formatting & posting on WordPress and the internet, to getting more visibility; this course will cover it all! You will learn how to setup your blog on WordPress, and get the word out through online channels. You will work through a number of hands-on exercises which will help you apply the knowledge to your blog today, and you will also receive quick sheets and templates to maintain your efforts.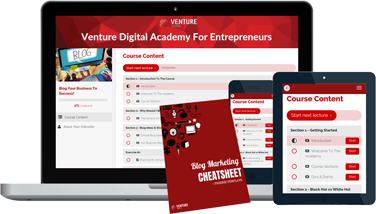 What You Get:
100% online & mobile friendly
Easy To Digest, Bite-Size Chunks Of Learning
Step-by-Step Instructional Videos
Hands On Exercises
Cheat Sheets, Guides & Templates
Community Access & Support
What Is The Community & How Does It Help Your Business?
The community is a place where you will stay up to date on all current trends & news while receiving help & support for your business in a safe & non-judgemental environment.
The community includes access to our private Facebook group, monthly LIVE training, and monthly collaborative hot seat sessions. There will also be special goodies & deals for members of the community!