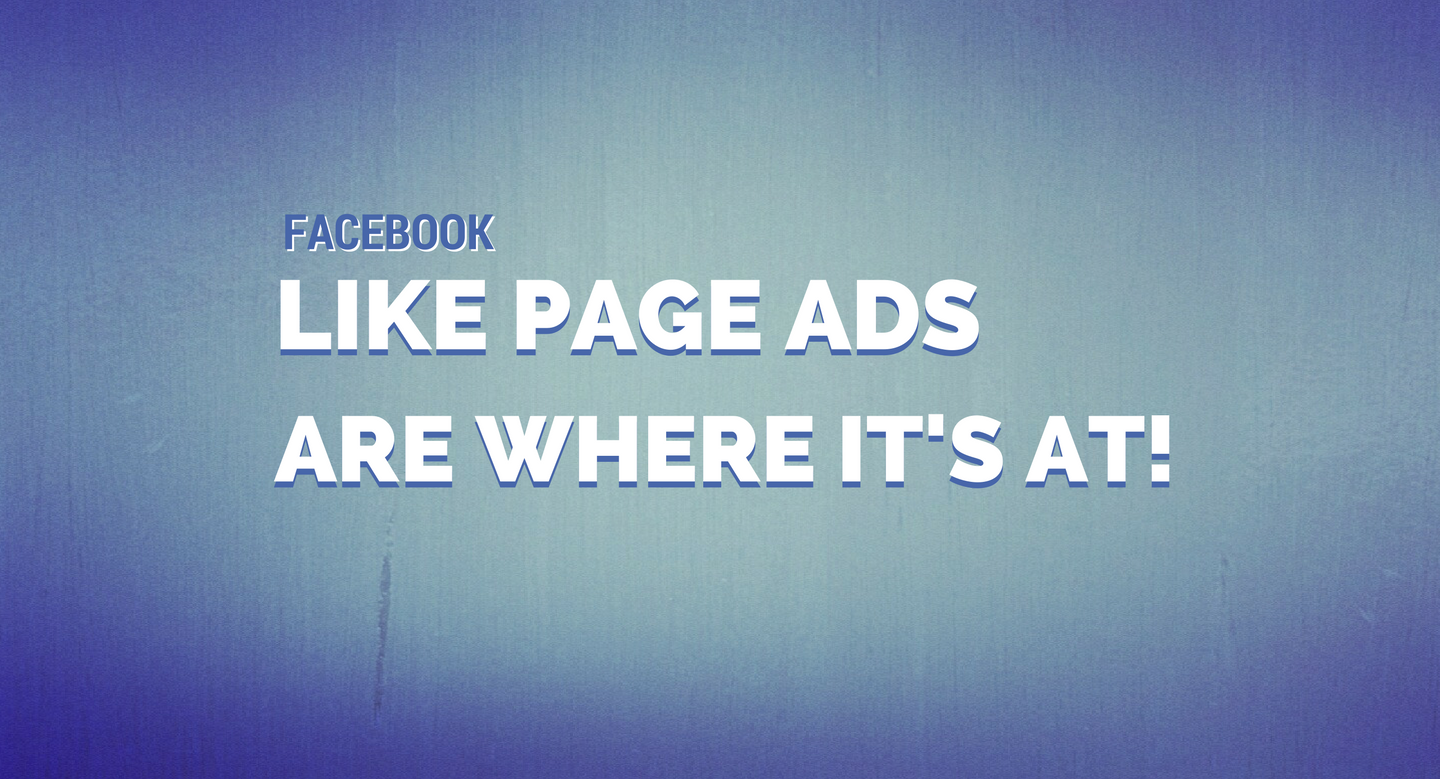 If you have been following me for a while now you will have heard me say a few times not to bother using the Facebook "Like Page" ad. It was always very expensive and "Likes" don't always equal out to revenue. Well, over the past few months I decided to give the "Likes Page" ad another shot. Why did I give it another shot? Let me explain below…
Reason #1 – Targeting Traffic
If you are a mainly local business, page likes don't always equal out to revenue. Sure they might help a bit in an ad, but there are much better ad types to run that actually put dollars in your pocket! This is why I used to steer away from worrying about page likes. However as my business started evolving into a more worldwide business, the need for better ad targeting got me looking at my page likes again.
If you serve a worldwide or even nationwide market, page likes can help create a "warm" audience of potential fans & customers. The more likes you have, the better your ad will perform and the more likely people will recognize your brand and trust its message. This is what got me to try the "Page Like" ads again.
I decided to give them another shot, knowing that in the past this type of ad often would produce at $3-10 a "like", which really could be spent on a different ad type with better results. But as Facebook's ad platform has evolved, I found this type of ad evolved too. Which brings me to reason #2…
Reason #2 – "Page Like" Ad Performance In 2016
At one time the sponsored post ads worked better because of ad blockers on desktops. But as more & more users switch to primarily mobile devices, the like page ads have evolved. Ad blockers can't stop the ads on the mobile Facebook app, so more people see the ad. Plus the ad gets served up to people who are more likely to "like" a page from an ad. Over the past few months the algorithms on these ads, have been improving. Even three months ago they still didn't perform as well as they have in the past few weeks.
That being said, besides the algorithm updates, the ad design is an important aspect as well. I have been adding a picture and quick text that tells the viewer what they get if they like my page. One such design that has performed well is shown below. I explain how my page offers lots of free e-learning & tips to help people grow their business.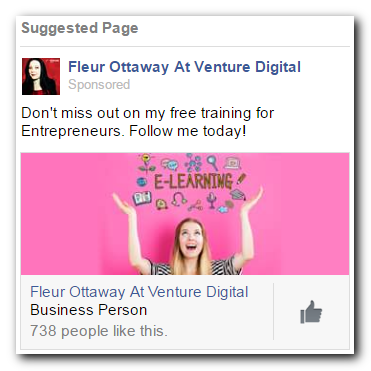 This ad above has been performing exceptionally well. I have been sending it to a look-a-like audience, and running it at $10 a day and so far it has surpassed my expectations. The most impressive thing about this ad's performance is it has been steady, only a day here and there where it has underperformed. Getting each like for just under $1 is a huge difference from the $3-10 likes back in the initial days of Facebook advertising. With the ad still performing well past day 5, this has changed my mind on the quality of the "Like Page" ad.

My Recommendation
If you are serving a larger nationwide or worldwide market, I suggest trying this ad. With these recent upticks in the quality of the "Like Page" ad, I would recommend using this as a part of your audience building strategy. Start small & run for $5 a day, choose a good design & if after 3 days it doesn't perform then try changing up your targeting or ad design. I took some time to develop a good message, so experiment with this for yourself.
Have you been seeing the same results lately too? Leave a comment below…
And as always, reach out to me with any questions as you try it yourself!
---
About The Author

Fleur Ottaway is a technical marketer and trainer who loves teaching and consulting. Applying her background in IT and marketing, she helps businesses learn how to leverage technology for growth.